World's Largest Stamp Mosaic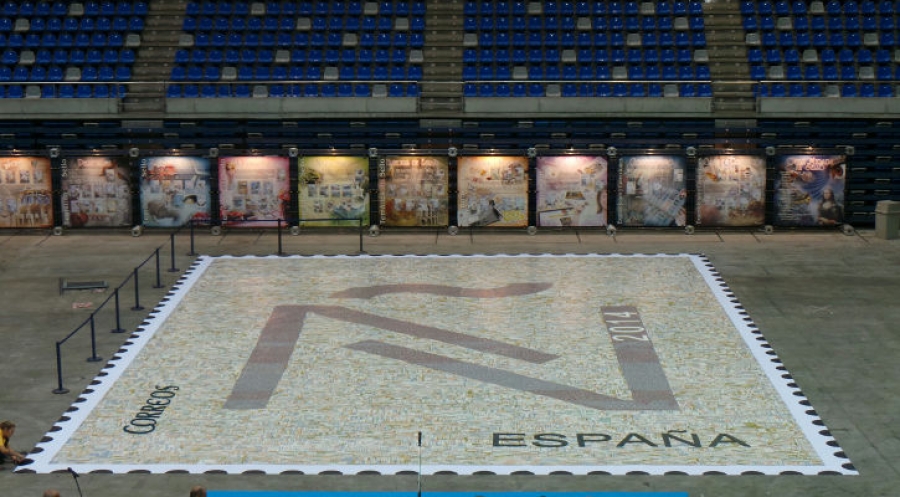 At an event in the José María Martín Carpena sports centre, Malaga, Spain on the 8th of November 2014 the world record for the world''s largest stamp mosaic was broken.
More than 230.000 individual postage stamps were used for the mosaic, covering more than 220 square meters; The mosaic measured 17.50m in height and 12.58m in width.
The mosaic was created using mint Spanish stamps of different designs from 2011, which were taken out of sale, and would otherwise have been destroyed by the authorities.
More than 3,100 individuals helped with the creation of the mosaic, which took more than 22 hours by the volunteers, many who were children.
The mosaic depicts a capital Ñ, which is a letter that is exclusively used in the Spanish language, to symbolise Spain and its former colonial states.
Unfortunately, the stamp is too big for the world's largest envelope, which was commissioned by Stanley Gibbons on 10th of May 2010. The envelope measureing 23ft ½inch (7.02m) high by 32ft 9 inches (9.98m) wide was created to celebrate the London 2010 International Stamp Exhibition.
The previous record for the largest postage stamp mosaic was previously held by Johannesburg (South Africa) where a mural with 201,000 stamps covering 162 square metres was created in 2010.
I am wondering how large a mosaic stamp could be created using all the stamps returned to the Green Cabbage Trading Scheme?
Welcome to the Journal
The first Stanley Howler Stamp Journal was published in November 2004 and this continued up to Journal 26, published in the spring of 2012.
After a short break two electronic versions of the journal, 27 and 28, were published.
The previous Journals can be found in the Discworld Stamp Catalogue.
The pressure of other work has made it difficult to continue with a formal publication. However, it has been decided to publish an informal blog.
Special Offers
There will be regular special offers available to collectors.
General Offers
These will be available to everyone at the posted price
Subscriber Offers
These offers will only be available to subscribers to the LBE Season Ticket.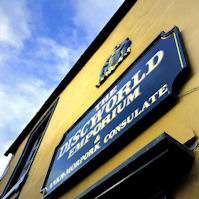 The Stanley Howler Journal is brought to you by the Discworld Emporium where you can find all your Discworld and Flatalist needs.