Design a Coat of Arms for the Flatalist's Guild
Congratulations to Yael Kellman on winning the competion
Her winning entry is shown here together with a description of the coat of arms.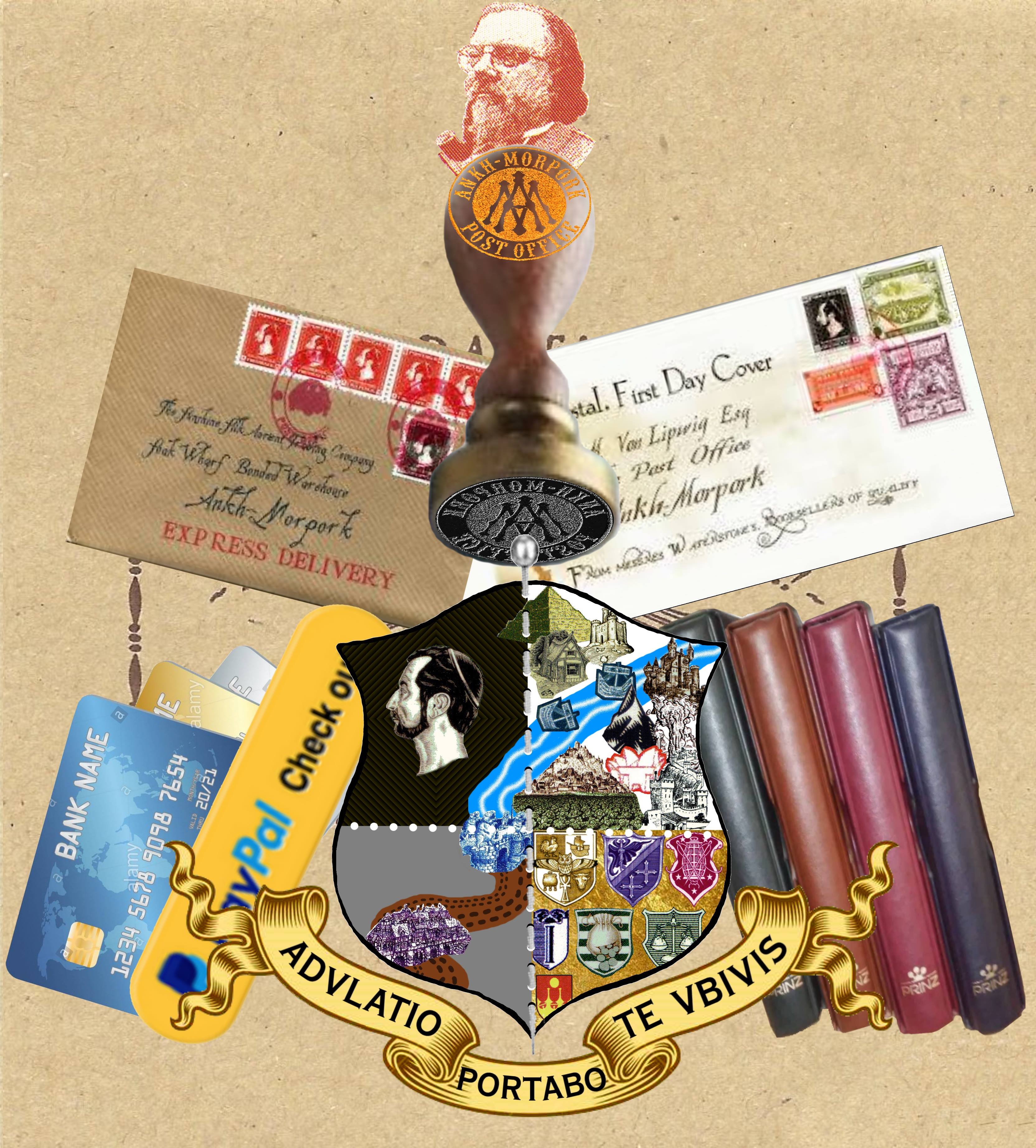 Crest:
Rust on White Field the Cunning Artificer Half Profile left with Pipe.
Helm:
Ankh–Morpork post–office rubber stamp rampant.
Mantle:
Bend Ride to Sto Lat First Day Cover.
Bend Sinister Going Postal Publication First Day Cover.
Shield:
Quarterly
Charged cross of perforations with enhanced silver pin.
Annotated River Ankh blue & white and brown.
Sable sans nombre lozengy over Patrician Profile Dexter.
Azure over Tsort Pyramid, Chalk Baron's Castle, Twoshirts Shop, two Nothingfjord ships, Lancre Castle, Llamedos Mountain, Fourecks Opera House, Shmaltzberg Fat Geyser, the Great Agatean Wall, & Sto Lat.
Gray & brown River Ankh with footprints over azure Brass Bridge and purple Ankh Bridge.
Gold over Guild shields - Merchants, Assassins, Seamstresses, Engravers, Thieves, Lawyers & Fools.
Shield Supporter Left:
Bend sinister three fanned credit cards: blue, gold, silver; & PayPal Check Out button: yellow on blue & black.
Shield Supporter Right:
Bend four albums; Green, Brown, Burgandy, Blue.
Banner:
Gold over black ADULATIO PORTABO TE UBIVIS [Flattery Will Get You Everywhere].
Welcome to the Journal
The first Stanley Howler Stamp Journal was published in November 2004 and this continued up to Journal 26, published in the spring of 2012.
After a short break two electronic versions of the journal, 27 and 28, were published.
The previous Journals can be found in the Discworld Stamp Catalogue.
The pressure of other work has made it difficult to continue with a formal publication. However, it has been decided to publish an informal blog.
Special Offers
There will be regular special offers available to collectors.
General Offers
These will be available to everyone at the posted price
Subscriber Offers
These offers will only be available to subscribers to the LBE Season Ticket.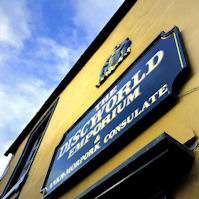 The Stanley Howler Journal is brought to you by the Discworld Emporium where you can find all your Discworld and Flatalist needs.